Custom Turnover Pendant & Chain
$ 169.99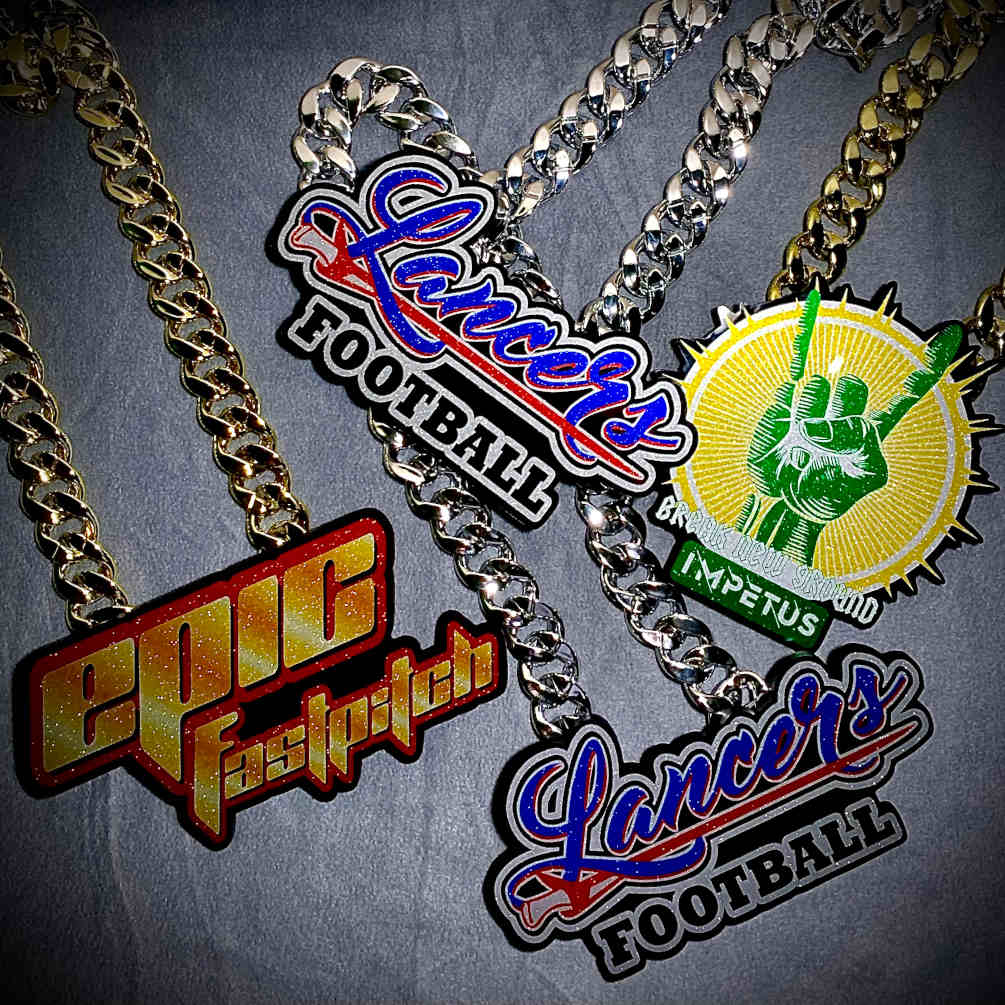 You are just moments away from owning your very own Bighead Custom! We make bling in a new way. Our pieces are created with incredible clarity and precision and bling like precious metals and jewels without the hefty price tag! So if you're ready to get started simply upload your logo or image, select your chain type and in the ORDER DETAILS section add any instructions you would like us to follow like the overall size of your pendant, length of your chain, colors to be used in your logo etc. Each piece is custom so we follow your directions of how you want it created. If you're not sure of any part of our checkout procedure please use our "live chat" feature on our website to speak with a Bighead representative. There you can chat in realtime with a real person regarding your order. If you can't reach a rep on our website feel free to call us at (323) 643-2792
. Thank you for choosing Bighead Custom now let us "BLING" your logo to life!!!
*I DONT HAVE AN IMAGE: Please describe what you would like the best you can in the Notes section of the checkout form.  We will contact you before we begin to process your order. You can email us as well at info@bigheadcustom.com
ARTWORK:
Best file types: 300 DPI JPEG, Adobe Illustrator (AI), Adobe Photoshop (PSD), EPS Vector images, PNG.  Even photographs can be recreated in our process, unlike the other guys!
PRICING:
Custom pendants start at $129.99.  They are as big or as small as you like. Up to 9 inches max diameter.  They all include a chain.  You may select your style of chain on this page.
ORDER PROCESSING:
If we have any questions when processing your order we will reach out to you via email.  If we can not reach you by email we will call or text you to the number you provide us at checkout.  We require a phone number at check out only to make it easier to contact you, we will never let it out of our possession.
ORDER CREATION
: It can take up to 3 weeks for us to create and make and ship your piece, however, most orders deliver within 10 to 14 days.  Our process is 100% by hand and the curing process takes 30 hours.  Trust me you will be happy, quality takes time.
CHAINS:
All chains are sent out at 36 inch default lengths unless otherwise specified.  Our standard chains are gold/silver acrylic at a generous 1 inch wide.  Will not fade or turn.
PROBLEMS:
If for any reason we can't create whatever you are looking to have made, we will cancel your order and you will receive a full refund to the card or Paypal account you paid with.  We will of course contact you to discuss your order before anything gets canceled. 
IMAGE INFO:
Please only send us images or artwork that you have the right to be using!  Additionally, by using our service you agree that we may use photo or video of the final product of your artwork (the pendant) on our social media pages as well as website or email marketing.